A Study in Scarlet
by Arthur Conan Doyle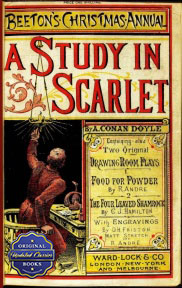 ---
This is the first book featuring Sherlock Holmes and Dr. Watson.

Holmes returns to London, after being wounded in battle. He meets Dr. Watson, and they become roommates at the now famous, 221B Baker Street apartment. The pair are investigating a strange murder case; one that has the police baffled.

Follow Holmes and Watson as they employ cutting-edge scientific techniques on their quest to solve a murder mystery that spans two continents.

---
Click button to preview or buy ($2.99)