Around the World in Eighty Days
by Jules Verne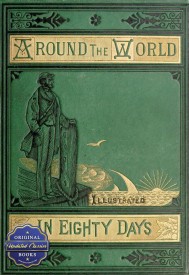 ---
This classic tale of adventure, set in the 1870s, revolves around an English eccentric named Phileas Fogg, a wealthy man who spends his time engaged in non-productive activities at the Reform: an exclusive club in London.

When discussing how easily a bank robber might escape the law, now that regular international travel had made the world more accessible, an estimate printed in the Daily Telegraph became a hotly contested point. According to the paper, theoretically, it was now possible to traverse the entire world in only eighty days. Phileas Fogg announced that he could certainly do it, and several of his Reform-friends wagered a total of 20,000 pounds against him.

Join Phileas Fogg and his French man-servant, Jean Passepartout, on a wild adventure across the globe. Will they make it in eighty days? Read the book to find out!

---
Click button to preview or buy ($2.99)